Tiny Dog, Big Awws
What's that bounding over the bushy grass? It's none other than Rudder, the tiniest, cutest pooch fetching his favorite yellow flower. This adorable dog may only be just a puppy, but he already has a keen eye for a good photo opportunity.
Imagining Rudder frolicking around the yard carrying a sunflower the size of his head is enough to brighten your day and leave everyone oohing and aahing. He's got the right recipe to make hearts melt and jump in excitement at how cute he is.
Born to Pose
We've all had one of those picture-perfect moments go completely wrong at the last second. Whether we've been photobombed, buttoned our shirt wrong, or, in this case, caught a burst of wind and ended up with a face completely covered in hair… Been there, done that.
Surprisingly, this little pooch totally owns the moment. Closing his eyes, working with the wind, and pulling off that effortless style we've all dreamed of, Blue seems like he's ready for Fashion Week. It's impressive how well he knows his best angle.
Saturday Morning Vibes
This calm corgi is most likely awaiting his favorite Saturday morning cartoons to kick off. Those are fond memories as we recall finding the biggest bowl and pouring far too much cereal and milk in. Thankfully, Darwin is more patient than most of us ever were.
We're guessing this pup has easily become a fan of watching reruns of Bananas in Pyjamas and trying his best to work the remote. It's no wonder Darwin is the best dog for morning cuddles in front of the TV.
Award-Winning Pup
Delighted by his shining moment in front of the judges, the award-winning Boone proudly poses for the camera for a post-competition picture. This happy pup is on cloud K-9 after reaching second place in a local competition, most likely for being such a good dog.
Sharing this spectacular moment with his family and, of course, with us is adorable. We're so proud of you, Boone. Even though it's second place, we know you'll get first place the next time you step in front of the judges. We can't wait to see you walk away a winner.
Alternative Style of the In-Crowd
This stylish pup wants to show you his vinyl collection of his favorite bands, but you've probably never heard of them. At any rate, Rux looks content with his new trim, sporting a fashionable look that puts him straight into the cool crowd at the dog park.
Color us jealous! We've all tried unsuccessfully to pull off a new hairstyle and nearly fainted when checking our reflections. Rux must have shown his dog groomer the right picture to pull off this perfect look. Maybe we can show Rux's picture at our next haircut.
Pint-Sized Admiration
This picture is a remarkable reminder of how dogs can have similar emotions and attitudes to humans. Seeing how Aspen looks up to and admires the seasoned Piper sitting at attention for the camera resembles so many ways we admire each other as humans.
Even though Piper is managing to hold her gaze forward, this stoic doggo can sense the emotion and reverence shining through Aspen's eyes. It warms our heart that dogs, too, can have such emotional range and care for each other so deeply.
A Look That Melts Hearts
Maisie was born for the camera and shines in the spotlight. With a precious smile gleaming across such an adorable face and a twinkle in her eyes that will bring a tear to yours, this sweet dog has all the means to leave you speechless.
This innocent little pup running over for a picture and sharing her unbridled joy with the world is unbearably cute. We hope to see Maisie again in the future as her smile can part the clouds on a rainy day and bring the sunshine back.
Ball Boy K-9
We love having our wonderful pets accompany us everywhere we go, and our loving dogs adore sharing in all the activities that make us tick. We can clearly see this is the case with Obi, as his training has paid off.
Now ready to join his owners on the tennis court, Obi will be the best ball boy out there. Getting to run around outside, playing fetch on the court, and spending the day with the people he loves most is the ideal way to pass the time.
Pancho's Painstaking Patience
The level of patience and self-control is magnificent. Able to resist the temptation of quickly snatching up his favorite treat, Pancho is a well-trained doggy that has learned the importance of patience. Of course, he'll gobble the treat on command, but it'll be well earned.
It's amazing how dogs can learn such self-control with just a little guidance and patience. We just looked at the picture again, and it's incredible that Pancho is still waiting. We wonder how long this pup can hold out before giving in.
Discomfort in Paradise
Most of us remember our first time at the beach. There was that sticky feeling when the ocean water dried on our skin, the sand got everywhere, and our first sunburn messed up our skin's sensitivity. Ouch. Obi-Wan doesn't seem like he had such a great time.
This cute pup might not be having the best time right now, but wipe the sand off his nose, turn him around, and hand him a soothing beverage, and he'll be enjoying the sunset and wagging his tail in seconds.
Pet Shop Toys
If you want a good recommendation on a long-forgotten hit or a newly released masterpiece, you've come to the right place. Bo is the perfect four-legged employee, as he can sniff out a hit album from across the record shop.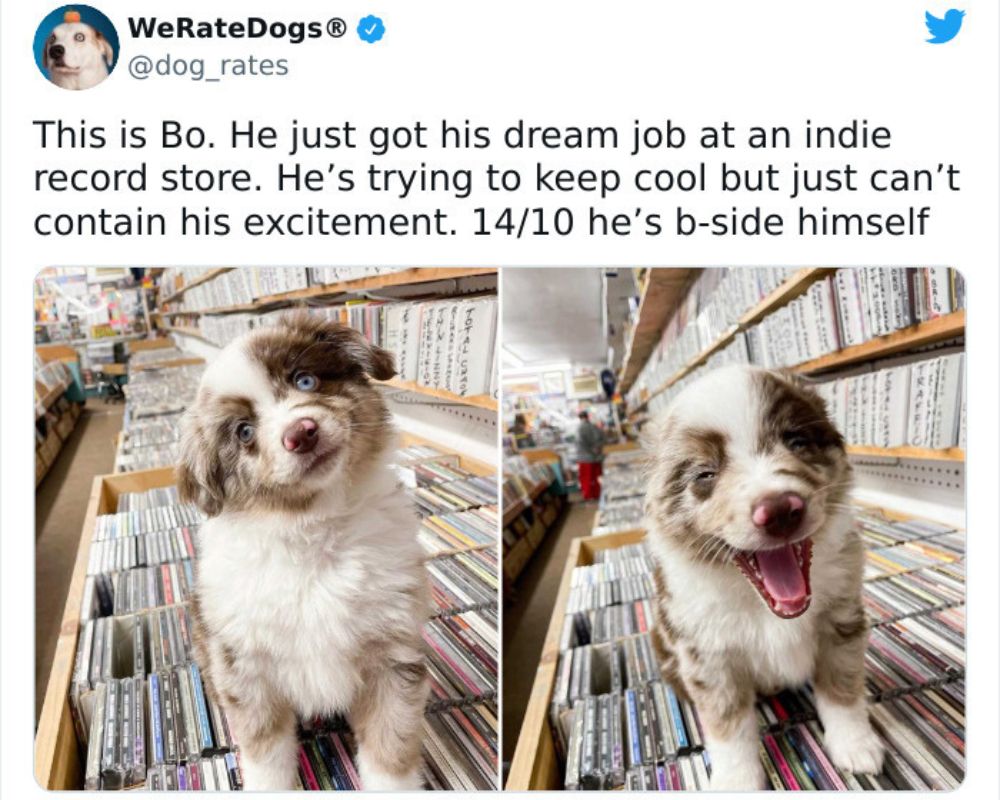 Listening intently to the genres of music you prefer the most, Bo takes in your musical preferences and even offers a smile once you've thanked him for his recommendations. This musically inclined K-9 knows his stuff and is due for a promotion.
Cute Until Proven Guilty
With a knowing smirk and sweet gaze, Iroh is keenly aware he stole the cookie from the cookie jar. Playing it off super cool and letting his puppy dog eyes work their magic, he's hoping we forgive and forget. It's hard to resist that look.
Whether you choose to mention the stolen cookie or succumb to his innocent-looking charm, we've decided to let it slide this time. Iroh knows our soft side and that we're suckers for a cute smile, even when the evidence is staring us in the face.
One Size Fits All
Dogs can grow up so quickly, and we never realize how fast time can get away from us. Grizz is hanging on to his tiny pool from when he was a puppy and claims that he still fits. Maybe the pool shrunk. Maybe he's outgrown it.
Hopefully, this adorable doggo will learn to let go and upgrade to a larger backyard bath. He'll actually be able to swim around, enjoy the water, and feel less cramped. Either way, it's cute seeing Grizz stuffing himself into this physics-defying pool.
Sit, Stay, Strike a Pose
Seemingly trained by the world's best models, these two remarkable pooches make posing for the camera look like a cinch. They have all the right moves, poses, and a knack for giving the camera the right look to mark the occasion.
We're genuinely impressed at the skill required to teach Ferris and Luka to hold these poses. What takes many of us years to master is made to look effortless as these two dogs easily shine in front of the camera.
Summer Swimwear
Preparing to hit the pool, this aquatic K-9 is donning a tiny life vest to help keep him afloat. Stanley is looking adorably fashionable as he poses poolside before excitedly launching himself into the clear blue waters for a refreshing swim.
The only thing that could make this picture any cuter would be tiny, orange arm floats with his little paws sticking out. We think it was the right choice not to include them, because that picture would have been too cute for us to handle. We're happy Stanley's swimming in style.
First Place in Our Hearts
It's a beautiful sight to behold when you see an older dog charm the judges and take home the award for first place. Although they say you can't teach an old dog new tricks, it seems that Lola must have already known how to be adorable.
Giving us a proud smile and showing off her award, Lola poses for a picture feeling on top of the world. There's no doubt she'll be wearing her award the next time she visits the dog park and showing the younger pups a thing or two.
Aye, Aye, Captain
Although Brixton's captain's hat may not fit, he was born to lead his crew onto the high seas. As a natural-born navigator, this lovable dog has found his way into our hearts with this funny picture of losing the battle against his hat.
Of course, Brixton has little time for pictures as his attention is needed on deck. Passengers are restless, the crew requires their captain, and this brave dog is just the one to lend a helping paw and get the job done.
First Bus Ride Jitters
Everyone remembers their first time on a bus. Climbing the steps of the bus, finding a good place to sit, pressing your face against the window, and watching your parents wave as you tackle the world on your own.
Reggie is a brave dog. He'll meet tons of new friends, find the perfect toy he's been saving for, and have an exciting story to tell when he gets back home. With an adorably concerned expression, he's just realizing he's a dog and doesn't know how to read the bus map. Oops.
The Relaxing Island Life
When plans for a surf trip to an exotic island destination were changes, Loki got to enjoy a piece of the island life back home. Sporting a lei on top of her head and digging her new tan, this island dog is soaking up retired life.
None of us can blame this chill dog as we've all reminisced about a restful retreat of our own. The sun bouncing off the waves, a refreshing drink in hand, and the feeling everything's all good. Hopefully, Loki invites us along next time.
Doggy Howser, M.D.
Every medical student is familiar with this scene; the exam is around the corner, so you decide to try studying in the quad. Fresh air and sunshine beat spending hours in the stuffy library. Your only downfall is not sleeping the last two days.
This studious pooch ended up tuckered in the grass and paying the ultimate price, notes with a mind of their own floating away with help from the wind. As a last resort, he can nibble on his paperwork and claim the dog ate his notes.
True Party Animal
How do the party hats keep multiplying? Well, that's 'cause the party's really kicking off. This party animal knows how to have a good time. Music, dog treats, and, of course, all dogs love certain card games (we saw it in a painting once).
The only problem is this adorable dog hears her parents pulling into the driveway a day early, and she knows it's time to face the music. You're probably wondering how dogs can drive. Well, if they can play cards, we're sure they can get a license.
Ready for a Snooze
Beanka, nestled perfectly between the cushions of a comfortable couch, seems to be dozing off. He had a long night yesterday. He was helping Beau study for his medical school exam and didn't get much sleep. You're a good boy, Beanka.
Now that it's the next morning, this sleepy pup is struggling to get to class. You did great and deserve to sleep in. Of course, your professor might disagree, Beanka. We spoke on the phone. There's a pop quiz, so you better hurry up.
Protector, Pal, Pooch
This is a touching sight! Graham quickly develops a bond with the beautiful newborn baby and watches over them every chance he gets. The new addition to the family will grow up with a loving caretaker. Isn't that just so heartwarming?!
As the pair grow up together, their bond will only deepen. And when the newborn baby gets old enough, they can take on responsibilities that will return the same adoration by taking care of Graham. This loving bond is an experience for both to share.
Homeward Bound
We can't believe our eyes. It's incredible how well dogs can see and how finely tuned their sense of smell is. Traveling hundreds of miles per hour ten of thousands of feet above the Earth, Louis sniffs, spots, and points out his home through the clouds.
This eagle-eye pup has an unbelievable sense of sight, smell, and direction, instructing the pilot exactly where to land. Hopefully, we can contact Louis to get a helping paw because we've misplaced our keys and haven't a clue where to look.
Skater Pup
Chevy has the perfect hoodie to go with his new skateboard. Now that he can practice his tricks while listening to Avril Lavigne, he's finally working up the courage to head down to the skate park. We're all cheering you on, little pup, even though the hoodie look is so 2003!
With a smile on his face and his favorite hoodie, we're sure that Chevy will do a grind, or a wheelie, or… We don't really know the skater lingo, but we're confident that he'll do great, learn some new tricks, and have a lot of fun.
Best Puppy Dog Awws
It's impossible to resist Huxley's puppy dog eyes. Since the picture is a close-up, we can't see what this pooch desires. As far as we can tell, it must be something glorious, as he expresses that want with his beckoning eyes. Maybe he just wants to give you a cuddle!
Is it a dog treat? A trip to the park? Is it tickets to the next dog show? Is it a prized family possession passed down through the generations? Whatever it is, please just give it to Huxley. His puppy dog eyes are making our hearts melt.
Smiling Selfie
We love a picture of pups that strongly follow human photo trends. It's rather amusing seeing the expression across Barron's face as he snaps a picture of his sleeping pup.
We've all had a father that thought this exact picture was the funniest thing in the world. Eventually, this young puppy will follow in his father's footsteps. The mystery is how did Barron learn to use a smartphone?
All Bundled Pup
This bundled-up pooch is ready for the cold. Need your driveway shoveled? Scooter's the right dog to help. We don't know how she'll manage a big shovel, but we're hoping she's got a Scooter-sized shovel of her own. This cute pup can stay warm all day.
With all that winter wear on, it's a wonder how she'll make it through the thick snow. We're sure after a cup of cocoa and a ponder, she'll figure out just the right trick to get herself over to clear your driveway. Maybe a tunnel?
Winter W-aww-nderland
Seeing how attentive Ruckus is to all the decorations lighting up the neighbor's house is inspiring. We imagine this festival dog helps hang the ornaments, plug in the lights, and decorate the rest of the house with as many multi-colored lightbulbs as he can find.
Borrowing ideas from the neighbors, the faithful dog probably adds his own touch of flair with bone-shaped ornaments, a Doggy Santa Claus, and enough doggy treats to accompany the cookies, milk, and carrots. There's no coal in Ruckus' future.
Guided Tour of the City
As any resident or visitor of a major city can tell you, taxis, buses, and subways are so much more expensive than in smaller towns. Commuting across town can be a struggle as you're cramped between locals and tourists alike.
It's impressive that Donut not only gets away with free transportation but also a guided tour. This lucky dog is living the high life as he looks back with a smile from the comforts of his padded backpack. Donut, please share your secret; who's your travel agent?
Professor Pooch
Starting the semester with a dog at the head of the class might generate a few chuckles and some whispers between students. The smiles and laughs quickly evaporate as Professor Pooch asks for quiet in class so the lesson can begin.
How did this dog manage to stand before this group of students? I imagine he studied really hard, impressed the dean, and earned the respect of his peers. Don't be fooled by his smile, he doesn't believe Beau actually ate his notes.
Pink Flower and Pure Bliss
Please direct your attention to the picture of Gracie. This is the perfect example of not having a care in the world and being truly at peace in life. Gracie demonstrates to all her adoring fans how simple happiness can be achieved.
Step one, find yourself the prettiest, tiniest flower in the park. Step two, place it on your head. Step three, pose for the camera. Step four… Step five, achieve inner peace. Of course, we haven't figured out step four yet — we're waiting for Gracie to text us back.
Home on the Range
This gruff-looking pup has taken time out of his busy day wrangling cattle to pose for a picture. He gained his notoriety around the ranch by being excellent on a steed and quick with a lasso. Howdy might say, "hey," but he's too busy to chat.
Now that he's in charge of the ranch, he's got mouthes to feed, cattle to drive, and work to do. He's been living the ranch life for — oh, wait. We should have said, "Howdy, might say, 'howdy.'" We can't believe We missed that.
Always Connected
Sadie and Niki are such a lovable pair. Viewing the pictures of them throughout their life together is an inspiration for everyone. Spending your day connected to someone you cherish in life is a heartwarming sight and a good example to follow.
Whether we stay connected to our parents and siblings, relatives, spouse, children, or friends, seeing Sadie and Niki leading the way is a great reminder to rekindle the spark of good communication and deepen the bond with the loved ones in our lives.
Weekend Drive
Maximilian has led a full life with many accomplishments under his belt. After so many rich experiences, he looked around and decided it was time for a change. He's decided to splurge and get himself the wheels he's always dreamed of having.
With his ears flapping in the wind, the sun shining on his face, and the crisp, fresh air in his lungs, this doggy has found a new life exploring the world from his awesome bike.
Golden Root-riever
This helpful dog lends a paw around the garden carrying unwanted roots and weeds. Wagging his tail at the thought of joining his owner in the backyard on a summer day, Max eagerly pitches in to fix up the thriving garden.
It's always wonderful to see how energetic and content dogs are to spend time doing activities with the family. Although we dislike gardening and getting dirty, it's a dog's paradise to spend the day together completing an otherwise mundane chore.
Tiny Hippopotamus
Whether this decision was on purpose or on accident is unclear. What we can gather is that this tiny dog must have visited the zoo at some point or watched a children's cartoon, seen a hippo, and immediately found a kindred spirit.
This tiny "hippo," at the last moment, looked back toward the camera and, with a feeling of accomplishment, acknowledged his mission was complete. Whether this is an outside or inside dog will be determined by how long that mud bath lasted and if a clean carpet is involved.
Letting Your Hair Down
Good luck trying to sit comfortably in the front passenger seat. With two dogs weighing you down, this family of four would win the right to choose where they want to park themselves. Your best bet is either driving or sitting behind the driver.
Thankfully, with the dogs wanting to let their hair down, having them play "Girls Just Want to Have Fun" isn't so bad after all. It's a catchy song and perfect to play on a summer afternoon. As long as the song isn't on repeat, everything is fine.
Frozen Doppelganger
It took us a couple of minutes, but we're sure the real dog is on the left side of this picture. We think. It's a wonder how talented some dogs can be. Whether gardening, playing cards, or, in this case, making an exact copy of themselves.
This snowman — snowman dog? — snowdog? Yes — This snowdog is nearly as cute as her tiny creator standing proudly beside her masterpiece. Since making this snowdog, Dotty has gone on to create many more ice sculptures. This cute dog has such humble beginnings.
A Candy Empire
This is yet another example of a dog finding a kindred spirit in a different wild animal, the owl. Most likely, this dog wandered into the woods encountering a turtle prior to meeting a wise but rambunctious owl that swallowed this dog's Tootsie Pop.
Taking a lesson from the owl, this ambitious dog hollowed out a tree, started sleeping during the day, and began collecting Tootsie Pops by the truckloads. After years of building his empire, the dog returned to where it all started and posed for a picture.
Excited to Surf
Having a much better day at the beach than Obi-Wan (the dog from earlier) this seaside pup is soaking in the smell of the salt water, the sound of the waves, and the feeling of a cool breeze.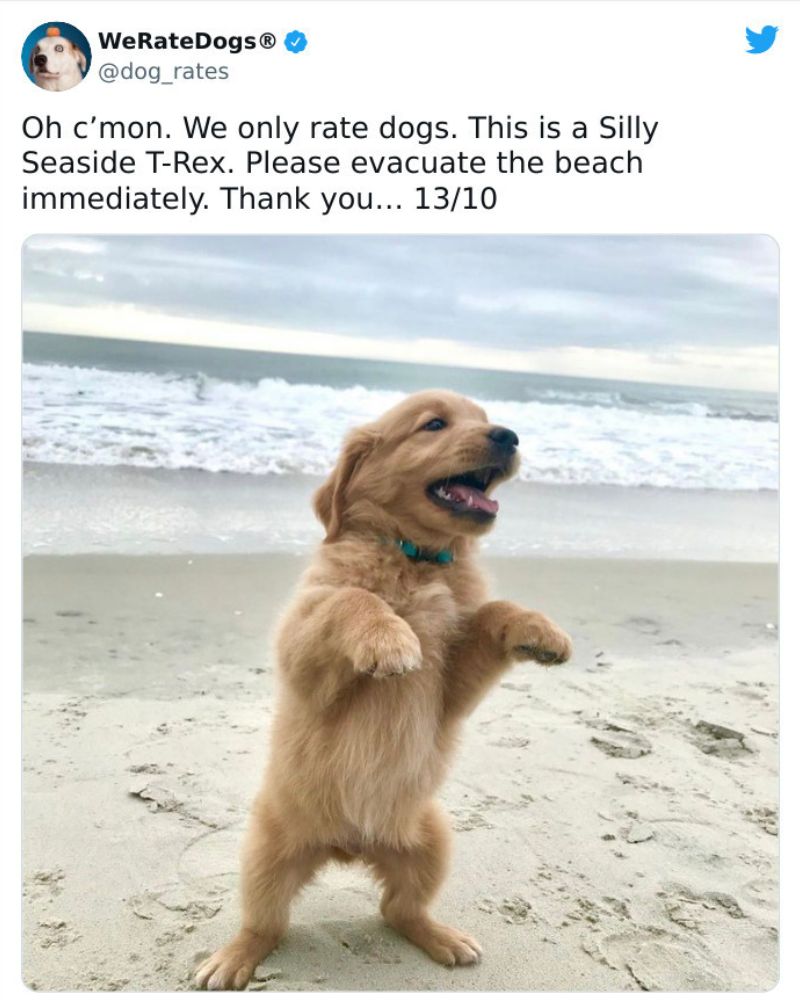 Hopefully, Obi-Wan can take a page out of this pooch's book to learn the best ways to enjoy a beachside vacation. Or maybe they could meet up online and schedule a day to enjoy the waves together. Either way, this pup is living the dream.
Summertime Sprawl
Yet another example of a dog knowing the perfect way to relax. This pooch knows the right recipe for a restful day; enjoy the summer breeze on the soft grass under the shade of a massive tree. Sometimes happiness can be so simple.
The only way this could be any better is by gently swaying in a hammock with a cool lemonade in paw. We're sure this doggo has everything under control by the content look on its face and not a worry in the world.
Floral Arrangement and Smiles
This cutie pie pup is posing for the picture-perfect display. Adorning his soft fur coat is the tiniest, little bitty bowtie and smile for the camera. It's clear to see that Kalua has definitely taken a few lessons from Blue, our photogenic pup.
Checking our phone now, and Blue still hasn't responded to our text for camerawork advice. At any rate, Kalua is looking lovely posing in front of this idyllic floral arrangement. The color-matching flower and bowtie make this scene even cuter.
Quiet Contemplation
To beat the cold January temperatures, this wise puppy went indoors to enjoy himself by the cracking fire. While admiring the rhythmic flames, this little pooch thought about life's difficult questions and wondered what the best way to improve his new year could be.
After a whole winter day spent outdoors in the cold, it's just lovely resting in front of the warm and comforting flames. We're just hoping he has enough room next to him for us to join him.
Old Friends, New Hugs
As we grow older, our lives become more complex, and we all take different paths. Meeting new friends, having adventures, and chasing the mailman are all part of growing up. Unfortunately, the paths we take can temporarily separate us from good friends.
Thankfully, for Simba and Cooper, now that the puppies have gotten a clean bill of health, they can meet up again. They now have more free time and can reunite after being apart for so long and rekindle their long friendship.